English
Management

Tokyo Bldg. Seibi has been certified under the ISO 9001 and ISO 14001 standards, reflecting our standardization of the specifications, methods, and processes that underpin the products and services we provide. We are proud of our continuing commitment to actively managing work quality and offering environmentally responsible services.
Expert technicians with specialized knowledge rotate among the sites we manage to provide guidance and instruction. Training our on-site workers to improve their manners and skills and maintaining an ability to respond quickly to customer needs are just some of the ways we take an active interest in the properties we manage.

We understand that the unauthorized disclosure of personal or other sensitive information can pose a significant risk to companies, making it a critical issue from the point of view of risk management. For this reason, Tokyo Bldg. Seibi trains all employees in the proper handling of such information, safeguarding its confidentiality and reducing the risk of unauthorized disclosure.
Cleaning
Cleaning is about more than just keeping a building looking good on the outside-a proper maintenance regimen is essential if a property is to fulfill its role over the long term. Tokyo Bldg. Seibi provides highly effective cleaning services using a variety of technologies that are custom-tailored to specific building applications ranging from hotels and inns to commercial facilities such as department stores and supermarkets. We also clean offices, factories, and schools. A selection of environmental services including air pollution measurement, water quality testing, and data collection and analysis helps us keep the environment as clean as your property.
| | |
| --- | --- |
| Daily cleaning | Cleaning of hallways, staircases, entrances, lobbies, outside restrooms, etc.; cleaning of floors and restrooms; disposal of cigarette butts and other trash |
| Periodic cleaning | Cleaning of floors and carpets, windows, etc. |
| Special cleaning | Cleaning of window sashes and blinds, lighting fixtures, exhaust fans, exterior walls, signage, etc. |
Facilities・Equipment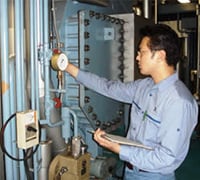 Office buildings. Intelligent buildings. Fashion buildings. Proper management is essential in order to ensure that people can live and work comfortably in the buildings that fill our cities. Tokyo Bldg. Seibi can offer aggressive support for your facility's mission, giving you peace of mind 24 hours a day, 365 days a year. Skilled technicians continuously monitor the operation of your facility and equipment, protecting your investment with a management system that's prepared for any eventuality. We can also provide periodic inspections, construction, and other services.
Tokyo Bldg. Seibi acts as a trusted advisor when it comes time to modify or update your property to ensure the long-term viability of its facilities.
| | |
| --- | --- |
| Electrical systems | Preventive maintenance, repair and improvement, load analysis, and energy-saving studies for electrical transformers, distribution, and load equipment |
| Air conditioning systems | Preventive maintenance, repair and improvement, load and indoor environment analysis, and energy conservation studies for HVAC equipment |
| Sanitation and water/wastewater systems | Preventive maintenance, repair and improvement, water quality management, and safety management for water supply, hot water, wastewater, pool, sanitation, gas, and kitchen equipment |
| Disaster prevention systems | Maintenance, repair and improvement, and disaster prevention management for firefighting and evacuation equipment as well as emergency exit signage |
Security・Parking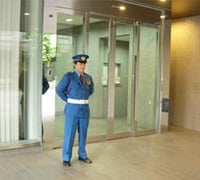 Do you get feelings of unease when you read the newspaper or watch the television news? As a provider of security systems and services designed for our times, Tokyo Bldg. Seibi realizes that the desire to enjoy each day in safety and peace of mind is a universal one, and we understand that emergency response is the true measure of a management system's value. We watch over buildings and their occupants with robust systems that are custom-tailored to their target properties and staffed by permanent and nighttime security personnel. We also provide parking lot management designed to safeguard people's vehicles, including a full selection of services such as traffic control and parking fee collection management. Peace of mind begins here.
| | |
| --- | --- |
| Permanent and nighttime security personnel | Interior and exterior protection of office buildings, schools, hospitals, factories, and other buildings |
| Parking lots management | Management services including customer reception, guidance, on-site traffic direction, and fee collection at parking lots and similar facilities |